FileMaker Database Design and Development
Our primary goal at One Part Harmony is to develop custom computer applications for our clients to let them do more business using fewer people hours to get it done – with a higher level of customer support than can be achieved manually.
When you use fewer people to achieve superior results, you spend fewer dollars, euros, and yen. And this translates into a better bottom line for your enterprise. Period.
Though we are business problem solvers first and foremost, we are technical experts in all aspects of database and Web design. We derive great satisfaction from seeing your staff discover that they can now do in seconds what previously took them hours (or days) to accomplish ... seeing that the moment they put some data into the computer, any other staff member who needs that information can find it ... instantly.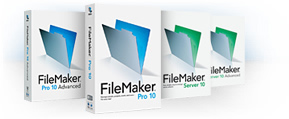 We has been developing with FileMaker for over a decade. Our founder, Morgan Jones, began his first project with version 5.0 in 1998, and we have utilized each new release since then (5.5, 6, 7, 8, 8.5, 9, 10, 11, 12, 13, 14, 15, and 16).
We specialize in FileMaker development because FileMaker provides the fastest, most cost-effective means of creating a new application that:
Is fully customized to the specific details of how your enterprise does business.
Makes all information available to all team members – with secure and easy-to-manage access control so each employee sees only what he or she is authorized to see.
Provides a modern, graphical interface that supports exactly the workflow you and your staff require for exactly the way you interact with clients, suppliers, and each other.
Looks and operates exactly the same whether your staff use Windows-based PCs, Macs, or a combination of both.
Can be hosted in-house on a Windows, Macintosh, or Linux server – or can be hosted in the cloud at a very low cost.
Can be linked to your web site to connect clients, partners, suppliers, and even far-flung staff members to vital information in your custom FileMaker database via the Internet.
If you're ready to graduate from storing critical client data in dozens of Excel spreadsheets, multiple Outlook or Entourage contact lists, and a seemingly infinite number of Word documents – scattered around on numerous personal computers throughout your facility – we can help you pull all your information assets together in an organized, easily-accessible repository.
Whether your organization consists of just you and one assistant, or you have hundreds of employees on your team spread out around the country or the world, FileMaker can connect all your team members to all your data. And we can build the FileMaker applications you need to maximize your success.
▲ top of page ▲